__________________
Project overview
In the summer of 2018 I worked at Microsoft as a Program Manager Intern as part of Enterprise + Cloud Engineering, a team under M365 Core. M365 core is a group that works under Microsoft Experience + Devices. The team that I was a part of worked on a feature called Customer Key. I was tasked with creating a Customer Facing Reporting system for Customer Key, which was to sit within the M365 admin center. What this did was allow customers to see how fast their mailboxes were being encrypted, how many they had encrypted, which ones were on the data deletion path, etc.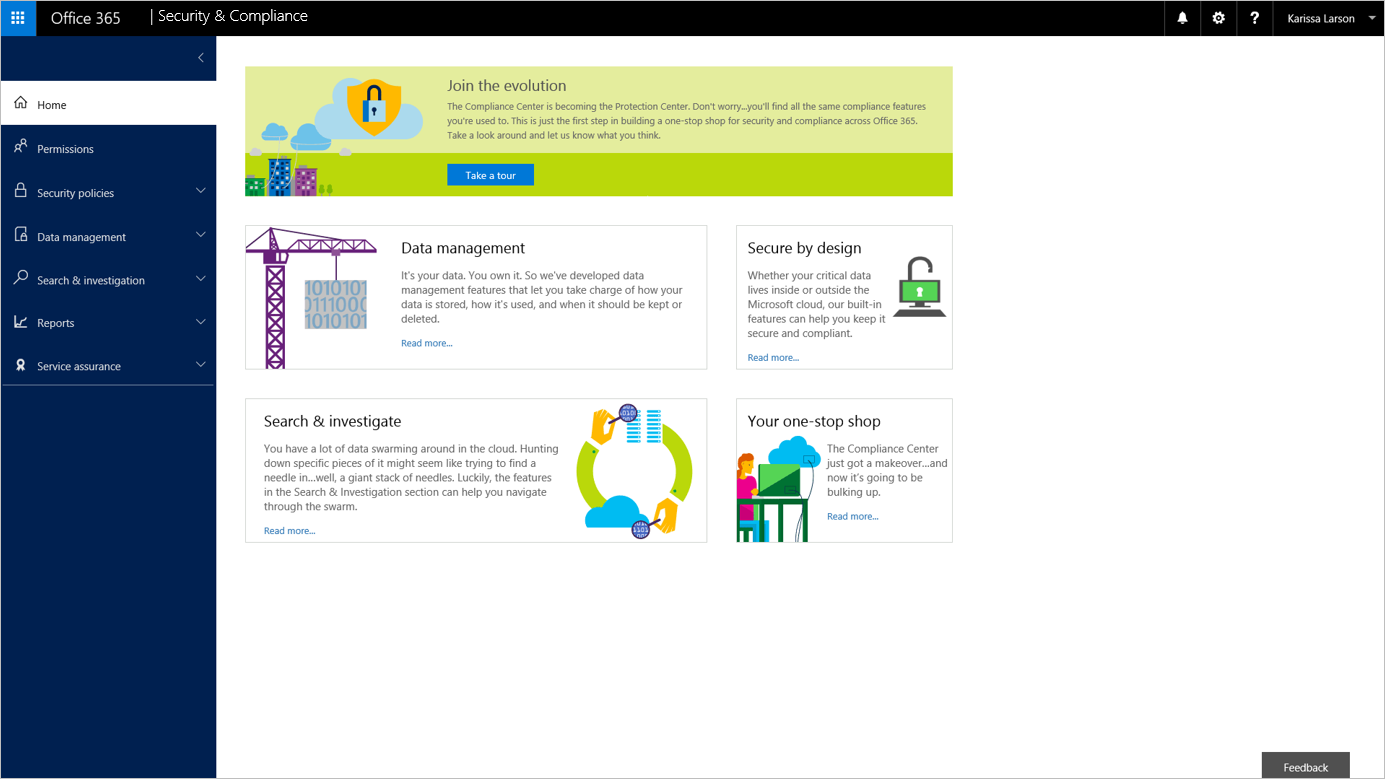 __________________
ABOUT CUSTOMER KEY
Key, you can control your organizations encryption keys and then configure Office 365 to use them to encrypt your data at rest in Microsoft's data centers. The data at rest includes data from Exchange Online and Skype for Business that is stored in mailboxes as well as files that are stored in SharePoint Online and OneDrive for Business. This feature was created due to the growing number of regulations around the world that require that companies own their own encryption keys for their data at rest. Microsoft's Customer Key feature addresses these new regulations and unblocks customers to allow them to us the O365 service. Customer Key became generally available in September of 2017. It is an add on to O365 E5 or Advanced Compliance. 
__________________
What I did
I created a User Interface for Customer Key within the Security and Compliance Center. What this did was allow customers to use and understand the feature better, as many customers have issues on-boarding or with working with the feature in PowerShell. The goal of this is was make on-boarding and using the feature easier. The main features included will be creating a new DEP (Data Encryption Policy), setting mailboxes to DEPs, searching through DEPs, looking up mailbox lists, etc. After successfully completing my goal and first project of creating Customer Facing Reporting for Customer Key, this project was my stretch goal.


__________________
What I did
To run anything Customer Key, you have to use PowerShell. PowerShell is the way users can control anything, which is a problem if your users don't know how to use it. To run any commands or set anything up, users have to use cmdlets. We would get daily emails about users incorrectly using cmdlets or imputing information incorrectly.  Usually when a product is released that is controlled through PowerShell, IT departments are the ones that use the product. In this case, we were getting clients who's legal departments were the main users. 
__________________
SOlution
​​​​​​​A new User Interface that would sit within the security and compliance center. It allows customers to create and set their Data Encryption Policies. This UI would sit on top of cmdlets, making it easy to implement and run. It makes it far easier for clients to use and understand the feature. Through this, customers can either create and set individual or group DEPs. They also have the option to upload a CSV containing a new list of mailboxes and assigned DEPs and set them using that.